The Herb Garden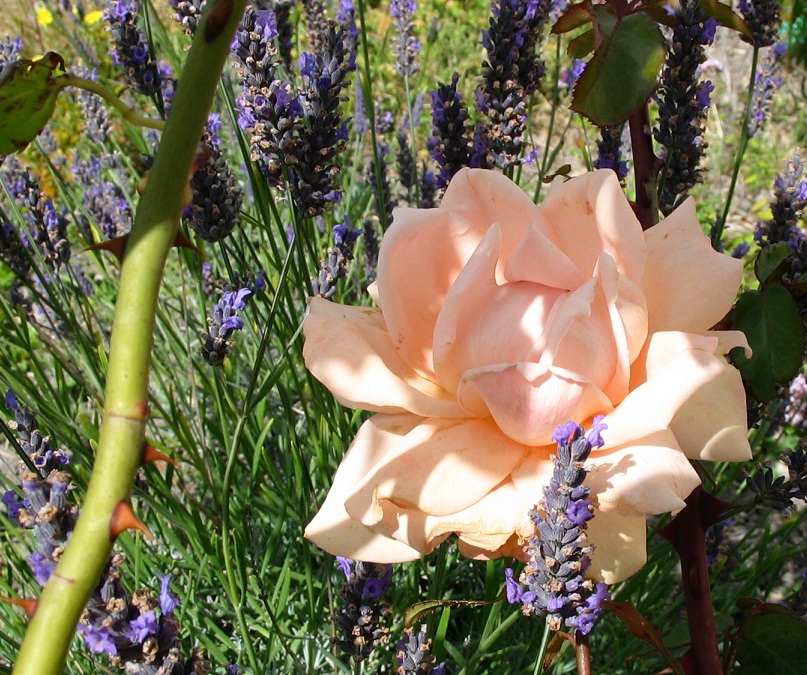 Overview ~ The Herb Garden was built in 2008. It is situated outside the kitchen door to be handy during winter.
The herbs were originally planted in amongst the vegetables. This proved to be less than ideal however, as there is paddock between the kitchen and the Potager which becomes very muddy and dark to navigate during the winter evenings when cooking takes place. If I were well organised the herbs would be picked during the day. I am not well organised.
The new garden area does not get as much sun as the potager so I hope the plants can grow healthy enough to be pickable, we will see.
Happenings 2013
November 17 - Nasturtium are taking over! Lots of very healthy growth with wonderfully coloured flowers all self-seeded from last years plant which was self-seeded from the previous year ...... etc. A darn good buy I say! It is good for the hens as well.
The rose I planted when the Herb garden was formed has sent out 2 different coloured flowers. One is creamy yellow and the other is pink. So random, I don't recall having one do that before. it's very distinctive.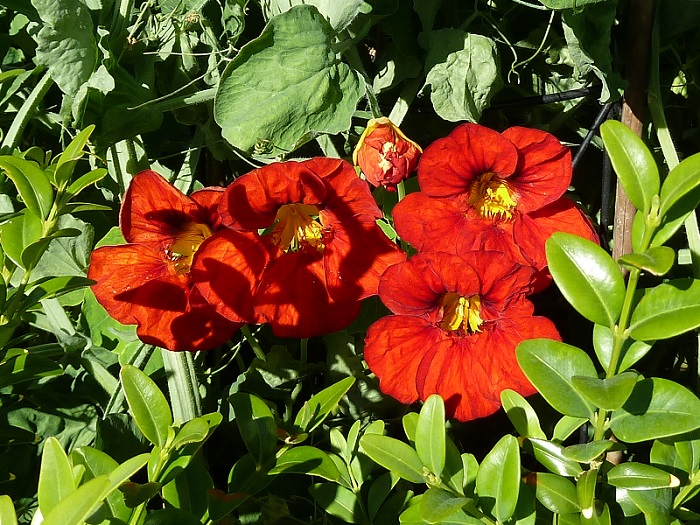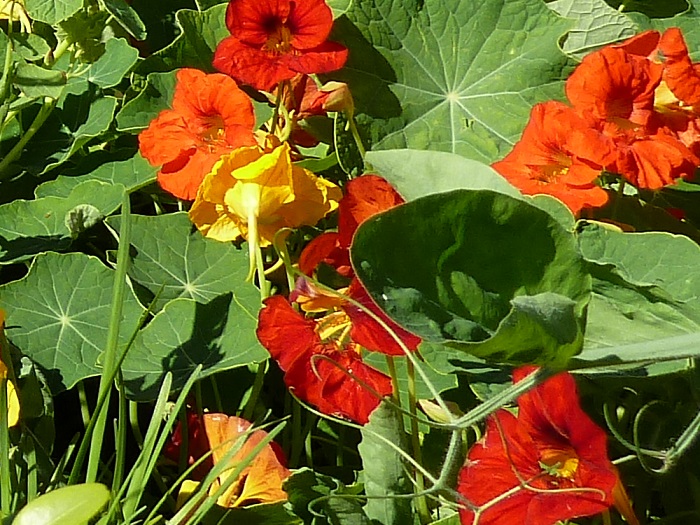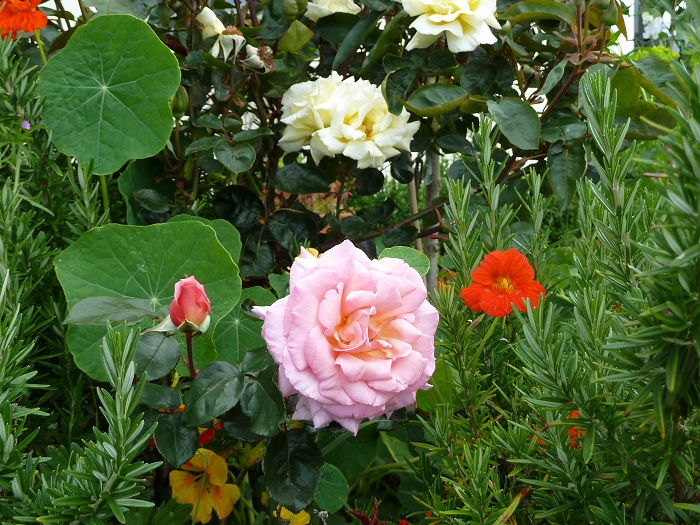 October 23 - The garden has warmed up and things are growing. Self-seeded nasturtium is forming a ground cover of its own design and I have already been trimming it back. The new herbs planted during Winter are growing well. Planted out glasshouse seedlings of borage. The rosemary hedge grows very fast and needs trimming every month.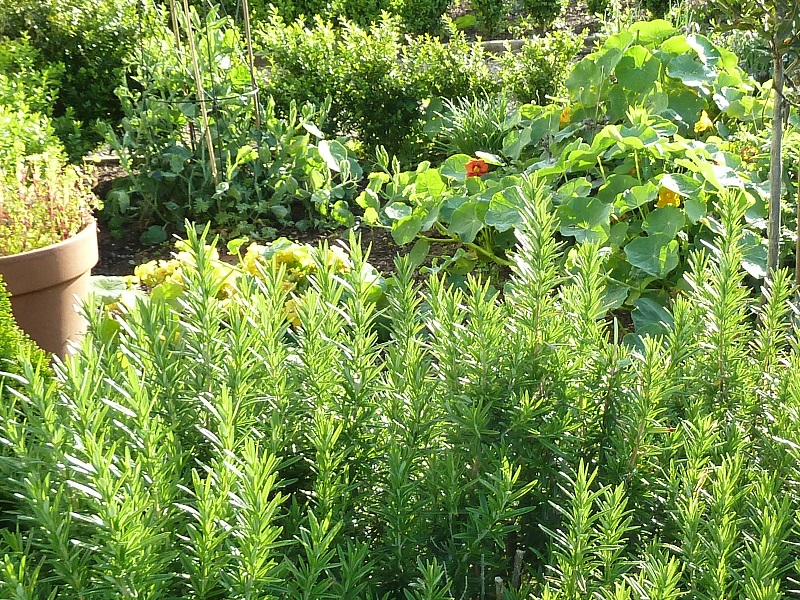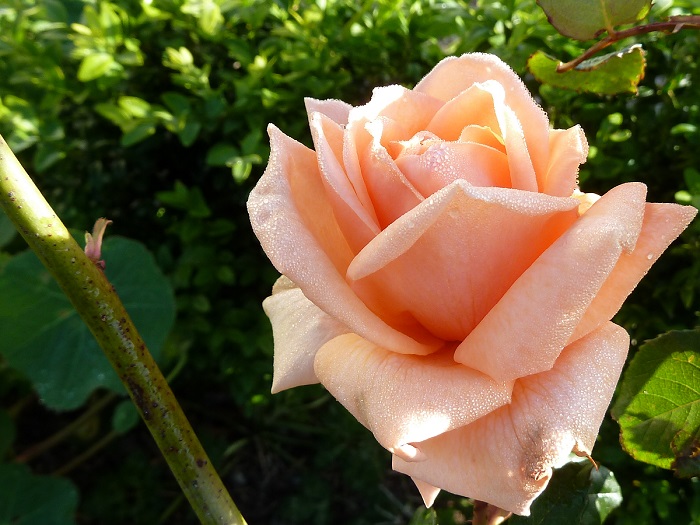 July - Early Winter and The Herb garden needs an overhaul. Weeds have been allowed to get a hold and have grown amongst the herbs to take over. There is not a lot of soil here and I think it needs to be built up a bit which will also help the drainage. I have bought a truckload of compost to spread over in preparation for replanting in Spring.
I have weeded the garden of buttercup, clover and most old plants. The compost has been dug in and parsley from pots planted. Looks much better! Ready for a trip to the garden centre.
July 13 - Planted thymes - common, varigated lemon and silver. Sage, garlic chives, oregano and dill.
For some pretty I planted yellow polys, pansy and californian poppy, white primula and a few lavender. Also planted some seedlings of sweet pea from the glasshouse.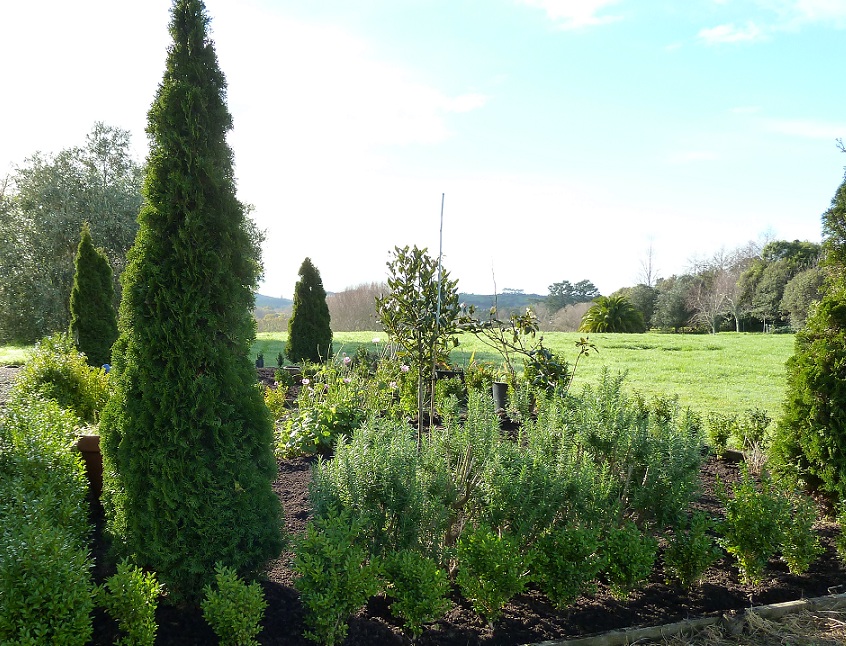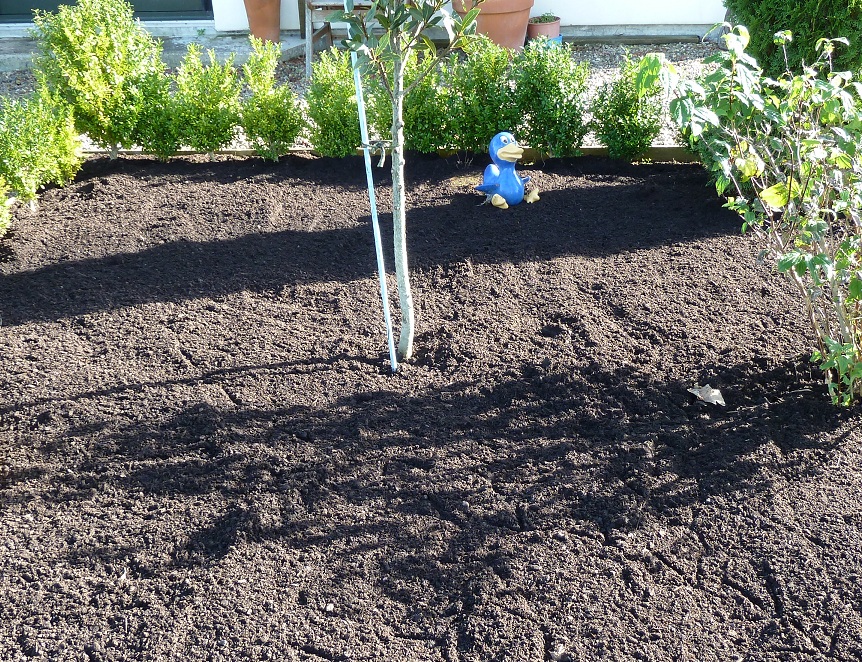 Happenings 2009
If weeds were herbs this garden would be awesome. The weeds which do grow in here are the sort that have the seeds that the little wax eyes like so I am not in a hurry to pull them out. Unfortunately they biff their seeds about before I do get to them. However there are a few herbs and flowers in here :)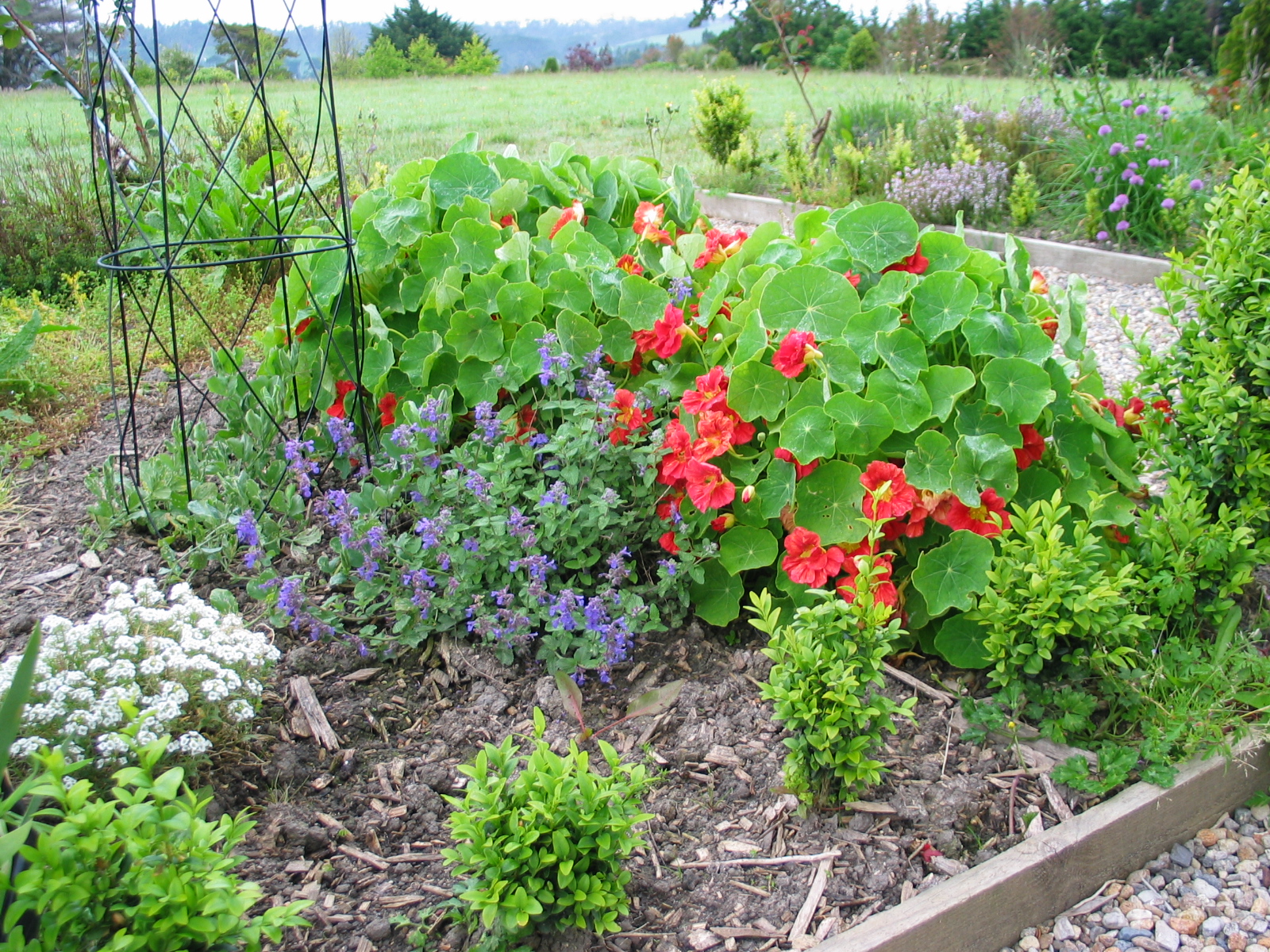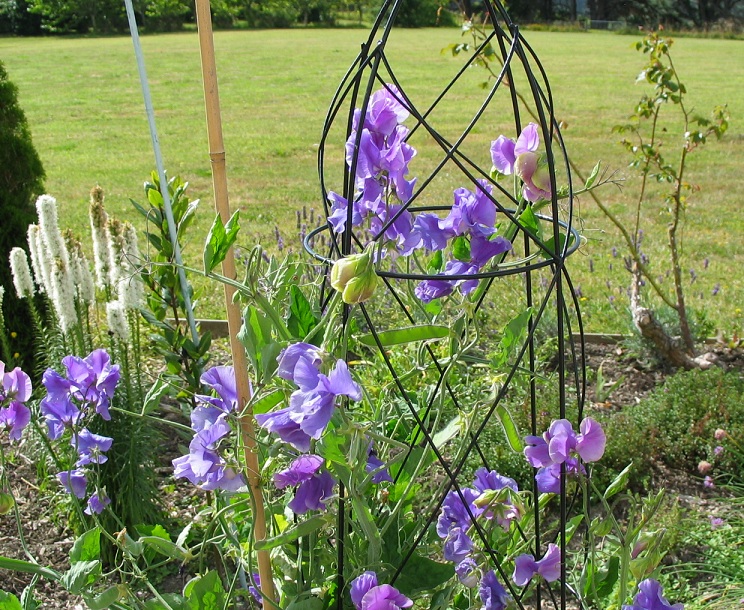 Happenings 2008
In the following photo the pegs define the size and the conifers will be planted at the ends for some height. The ducks are, as usual, nosey. That camera may just contain bread!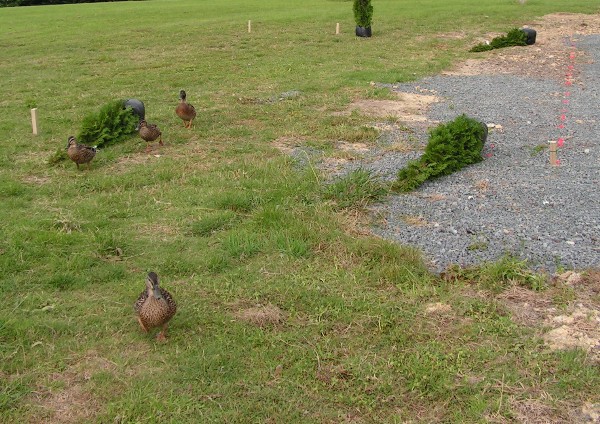 After a couple of days and lots of digging and shifting it is beginning to take shape. Notice the rose finding its way in and how the design allows for size change *cough*