Potager Journal 2013
Photos of veges can be found in the 'Photos' section above.
Happenings Jan
My first entry in this page for a very long time.
The garden has gone through a lot of changes and re-inventions over the last few years. The most recent (2011) was a plan to turn it into a permanent site for the hens (their run was getting too wet over winter) and rebuild the potager in a different area. I assembled the new henhouse in here and ran mesh around the whole garden and let the girls go. They thoroughly enjoyed it for a few months, meanwhile everywhere I looked to resite the veges just didn't work so, with promises of chocolate puddings and the 'I knew this would happen' returned stare, the bloke bought the machine out of its' winter wrap and we moved the henhouse back into the orchard. :)
The potager returns!
So, with great plans for the new reno sprouting we scoot off last August for a month skiing. Back 6 weeks later with my knee broken and plated and a no weight-bearing period of 3 months! Hmm. Beginning of Spring, start of the new gardening year with plans to boot and I'm on my butt. Crutches and foot-deep mud do not mix, trust me. However, the bloke to the rescue (again) and with-in a couple of days I had a little trailer with pots, seedling mix and a chair all ready to go! Yippee! Seeds for cabbages, broccoli, beets, butternuts, cucumbers, spring onions, courgette, peppers and aubergine were started in punnets and trays.
Which brings us to now. I am on both legs, albeit slow and a bit wonky but it is so much easier getting around to water without the crutches tripping me up and squishing plants ;) The veges are growing well and I am picking the first of the Lebanese cucumbers with the apple ones just over golf ball size. Kale is pickable and the girls get their share cause there is going to be poop loads of it!
As usual I always plant too many at once and never get the 'little and often' thing happening. The broccoli is getting big and I am picking the sprouting ones already. So delicious! The butternuts have set fruit and I love to watch them as they get bigger, such huge flowers! I have planted calendula and cosmos around the veg and cleome at the end of the garden which hopefully will look scrumptious to the green bug, pretty flowers on them already.
The reno plan is to remove all the existing beds and have four large ones, two on each side of the path. I found that I never had enough room to stuff everything in with the smaller raised ones, so hope this works. I have done one side already which is where all the above is planted. Garlic is growing in the other side and as soon as it is dug up I will wave a chocolate pudding around and see if I can get the digger to come scrape off the ground-cover (weeds) so I can get started there.
Happenings April
This summer has bought the worst drought since the garden began. I had covered the planted beds in straw and think that has been a real moisture saver as production has been suprisingly good. Top producers were the kale, sprouting broccoli and cucumbers. Not so good were the courgette sowing as only one plant germinated and it has fruit like a little squash.
Over the last week I have been digging Bed 1 ready for the next planting of brassicas. This has taken a while as the ground has been very compacted and I have had to dig down to a spade and a half depth. Fortunately there has been just enough rain a couple of weeks ago to soften the rock hard crust. I have added a thin compost layer over the newly dug soil and a top covering of straw to help suppress the weeds and add humus as it breaks down. The first planting of cabbage, kale and sprouting broccoli has gone in and a punnet of yellow poppies for a bit of colour. Also celery, 2 types along with two packets of fresias.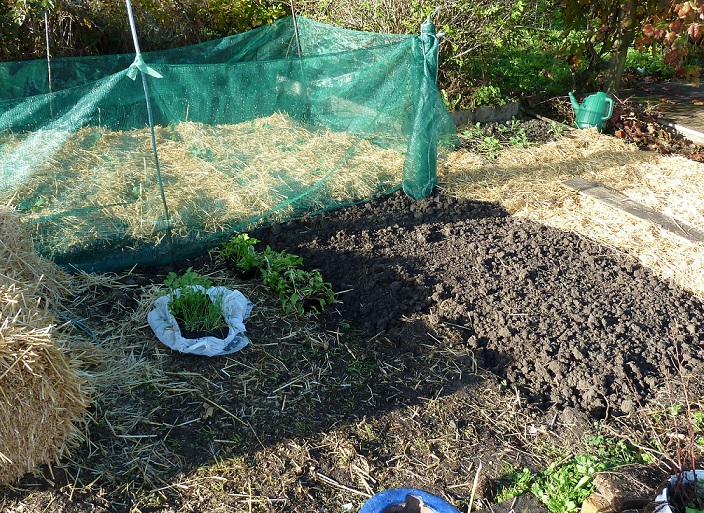 Happenings May
Finished digging Bed 1 (brassica) and it is ready for the next seedlings which I have started in punnets and tucked away in the glasshouse. I am determined to get this succession planting sorted. Usually it is feast or famine around here!
Began partial clearing of Bed 2 (legume) for peas and beans. Sowed peas directly.
Began clearing Bed 3 (roots) of summer cucumber vines? and dug in compost. Sowed a row each of carrots, parsnip, beetroot and sweet peas (on frame)
Removed some of the protective straw in Bed 4 (allium) and planted 3 rows of leek seedlings in toilet rolls (keeps them clean).
Cleared glasshouse and waterblasted the summer gunge out. Sowed punnets of broccoli, kale, turnip, beets x2, onion, sweet peas and zinnia and popped them inside.
Have collected seeds of cleome, echinacea, calendular and lavender and bagged them in some cute home-made seed packets. I have a most beautiful container which was given to me as a Christmas gift. It contained lots of delicious edible goodies and I am now using it to store my packets of seeds in, so pretty!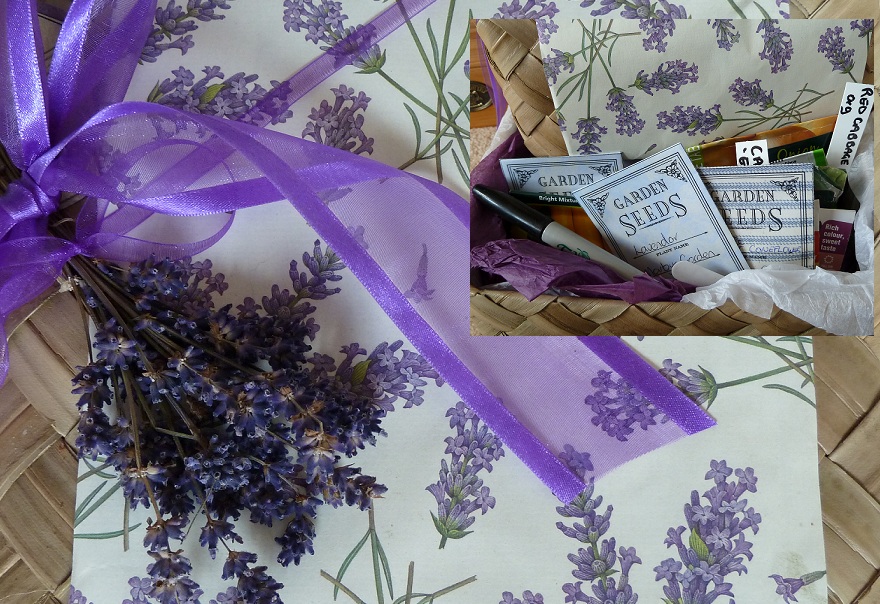 Happenings June - Winter
The rain has come and is making up for the poor summer showing. Everywhere is waterlogged and already muddy. Digging in the vege beds is getting gluggy due to constant showers!
The peas and carrots have germinated but not the sweetpeas around the frame however the ones in the glasshouse are doing well as are all the other seeds started in punnets there.
The leeks are still finding their feet and some have been replanted several times thanks to the darn pukekos pulling them out. After the last huge rain shower they are flooded as the toilet rolls around them have filled with water!
I have just planted garlic, late tho (20th) so I hope it still gets roots formed before the ground temp gets really cold. I did go to the plant shop to buy some fresh stock but none of it looked worth the $10 asking price. Some packets contained very small or several rotting cloves. Mine usually performs well when I get to carry it over the seasons so this year I have planted some remaining from my harvest last summer.
Today I have also potted up a whole lot more buxus cuttings taken a while back. They have formed good roots and will continue to be planted around the potager to give a bit of definition.
Helleborus have sprouted at the feet of rose Sally Holmes, the yellow poppies are flowering and freesias have popped up.The beech hedge around the potager has turned a gorgeous golden brown and glistens in the rain. It really is a great time of year in the garden!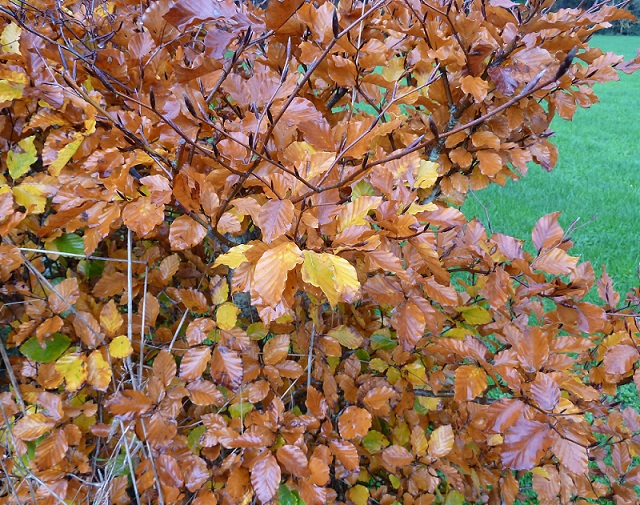 Happenings July
Planted 2nd lot of kale, broccoli and nasturtiums from the glasshouse into bed 1. Put wind-break around to keep the pukekos out. Weeded rest of bed.
Planted silver rib beets, nemisa, nasturtium and calendula in remaining free spaces in bed 1. Planted turnips, golden beetroot, nemisa and calendular in bed 3.
Planting peas. Garlic has started to sprout, 1st planting of broccoli pickable.
Sow another tray of peas and punnets of broad beans in glasshouse. Plant out onion seedlings and broad beans. Something eating peas that were directly sown in May. Laying straw down in bare areas and side paths. Nasturtiums have been hit by the 2 frosts earlier but there is still a bit of green so fingers crossed they will toughen up.
Chitting potatoes. As I have re-arranged the potager into the 4 main beds this year, some are larger than they were originally. The potatoes will be planted in an area which has not been gardened previously and will take up about one half of the bed so lots of digging and compost needed.
Planted some flower punnets, need more bee food.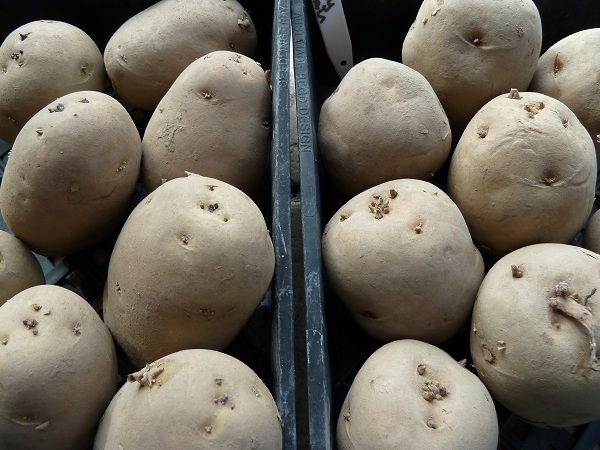 Happenings August
Re-painted the potting shed. It is now a creamy yellow, just needs the doors and window frames painted which I'll do when this nasty windy weather passes.
Cleaning out trays and punnets ready for the spring seed sowing and given the glasshouse a good scrub down inside and out. I have a 100% germination rate with the broad beans sown in July (Koanga and Yates) and about 95% with the peas.
August 8 - This year the weather is very mild. Has only felt like Winter for a couple of weeks so I have decided to risk it and start my Spring seed sowing. Can but try :)
Have sown seeds: capsicum, courgette, kale, red cabbage, broccoli, sno peas, beefsteak tomato, cleome, echinacea and more peas. Hopefully the glasshouse will be enough insulation against any cold winds or sneaky frosts.
August 14 - Kale, cabbage, broccoli and peas have germinated already! Sow seeds of echinacea (purple), phacelia, foxglove, cornflower, beans (french dwarf and yellow butter)
There are some great reference books out there and one that is very handy is the one below written by Kay Baxter. I don't follow everything but pick out bits and pieces that I think may work in my garden, like trying out the idea of planting by the moon. I do like this book!
Digging a new bed for strawberrys this year. They were originally down by the glasshouse but that area has been included in the new 4 bed system so I will site them at the top of the potager where herbs and cuttings have grown in the past. It currently contains a few dahlias, grisilina cuttings, an old lemon verbena and the resident weeds. Time for an over-haul.
Of course the rain has been bucketing down for the last few days. It always does just before I plan a dig! The soil is absolutely sodden and sticks like .... ahem, it sticks to the tines of my fork really well. A while ago I had put manured woodshavings from the girls houses on here just to give the soil some goodies and it has worked a treat! There are milliions of huge worms as I turn over the slops. Hope the strawbs like it.
August has ended with more rain and the ground is awash. Not good for digging, so not much being done.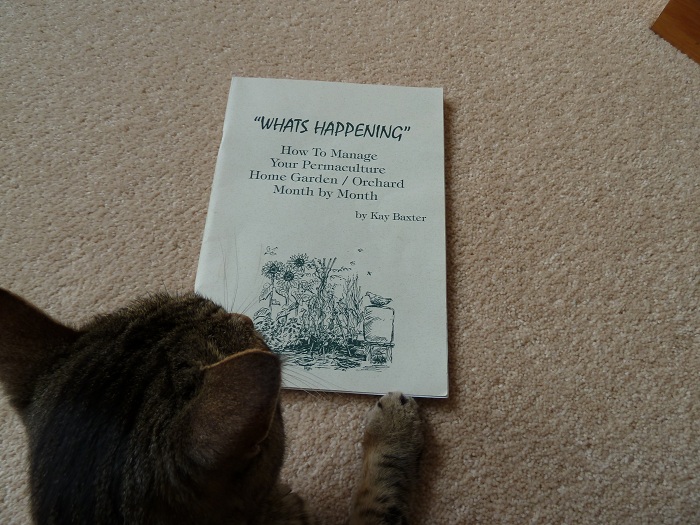 Happenings September - Spring!
First seeds of Spring sown in glasshouse: Aubergine, beetroot (red and golden), basil, pumpkin - crown, hull less and butternut, courgette.
Seed germination over August has been really good this year (most around the 100% mark). I have been re-potting seedlings ready for planting out as soon as the beds are ready. They are fully hardened and wanting to grow so roll on sunshine! Planted out peas and broadbeans.
Sowing flower seeds: zinnia (2 types), sunflower giant (pkts and saved) cosmos, wildflower- mixed, cleome - saved and cornflower.
Planted out potatoes, some bought, some sprouted from the cupboard.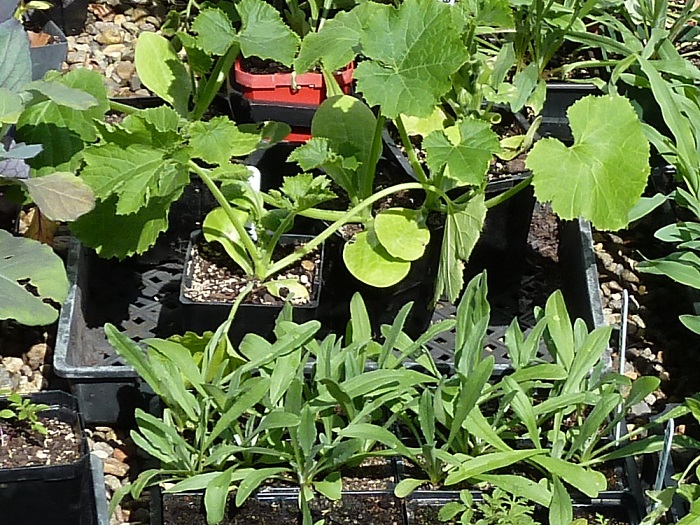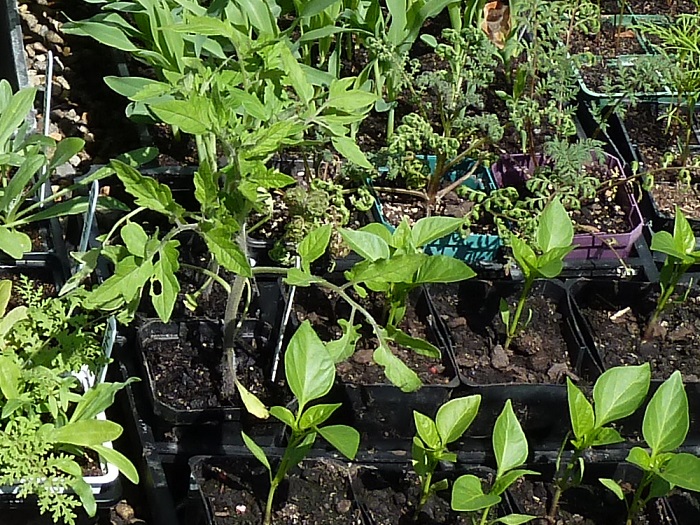 Happenings October
There is so much to do in the garden and until now the ground has been too wet to dig. As soon as the wind and ground temps rise we have about three, possibly four weeks to dig fast before the ground dries out and becomes too hard to put a spade in. Crazy! So my time has been spent digging to get the beds ready so I can plant my trays of seedlings. Nearly every seed sown this season has germinated and now I wondering if I have enough beds to plant them all into!
Planted strawberries, french beans, butter beans and peas. Dug over beds for sunflowers, more peas and corn.
I am moving the compost area (sited in what is now part of Bed 4) so have spread the compost out where it is and will plant the corn into that. While spreading the compost a mouse jumped out and scooted away under the potting shed. Ha! There goes your free lunch :) Then I found little wiggling things spread along the new bed with the compost, oh no! The little mouse had a nest in there and I had just spread it all over the place :( Yes I did go and pick them all up (I think) and put them in a pile of grassy compost back under the bin, hoping the mother would come back to them. Sook! I will be cussing them later in the piece I'm sure.
October 6 - Finally got my potting shed deck stained. I've chosen a dark ash stain and because it is so slippery during Winter plan to cover it with hex chicken wire.
Dug over Bed 4 behind the onions and composted ready to plant pumpkins. Removed last seasons broccoli and kale to make way for cucumber and courgette.
Planted sunflowers in Bed 2 with room in front to put the aubergines.
October 10 - Planted pumpkins. Extended the corn bed and re-dug it. Earthed up potatoes. The row from my pantry is growing much stronger and have all sprouted well compared with the store bought ones. Two of those have rotted, one I have cut the rot away from the very small shoot and root and re-planted. Interesting to see if they catch up to the others.
October 14 - Planted out corn seedlings. Netted over strawberry plants, still very small but sending out some fruit.
Picking broad beans, turnip, kale and beets. Beans are not growing well, very weak as are some of the peas.
A nest has appeared in the grapevine which covers the potting shed pergola. I think it is the bad bird who is always there pinching food. No doubt it will be thinking why nest elsewhere and then fly in for breakfast when you can live in the pantry! Of course I can't remove it, hopefully if I make enough noise it will decide to go elsewhere.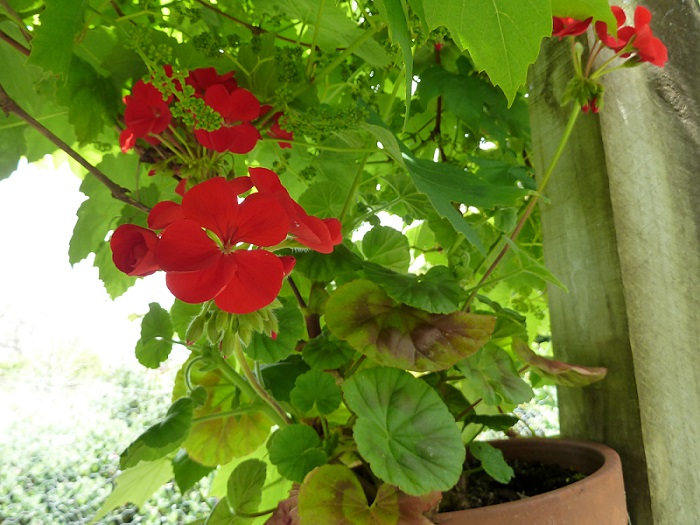 Happenings November
Picking kale, silverbeet, peas (yum), broadbeans and strawberrys! They are very sweet and just enough tart.
Weeding, need more straw. Watering already, ground is starting to dry out. Still have aubergine and some beetroot and lots of flower seedlings to plant. Planted yellow bell peppers and tansy.
Noise did not worry the nest builder and around the begining of the month I held the camera above my head, pointed it down and revealed some very pretty blue eggs! Not long after and the bad bird appeared with a very beady eye!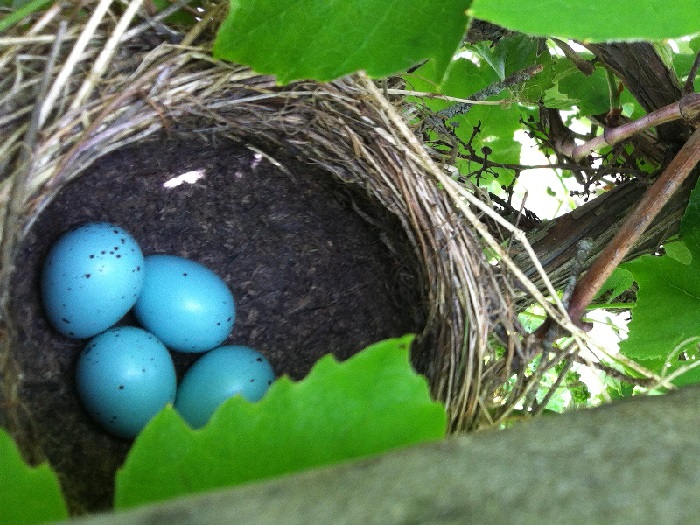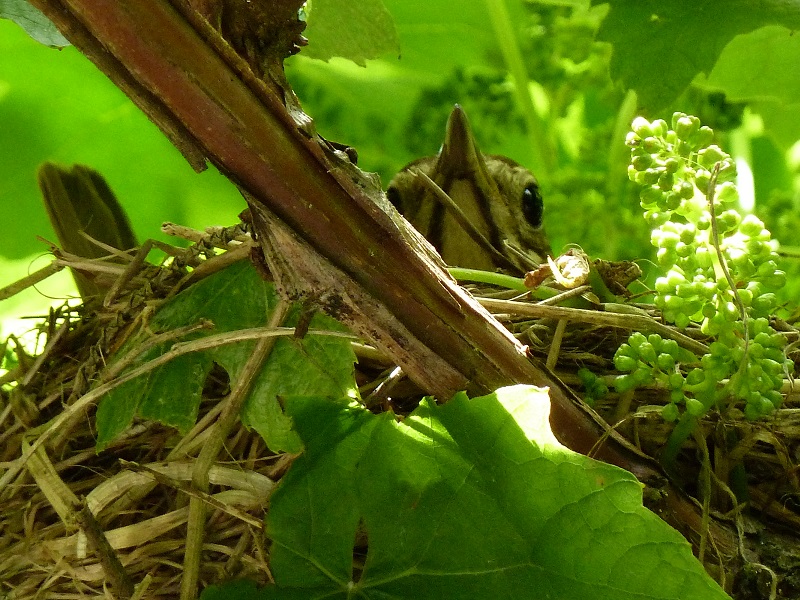 Nov 22 - Baby birds in the grapevine. Not the best photo, done on the run while mother was out hunting for food. So cute!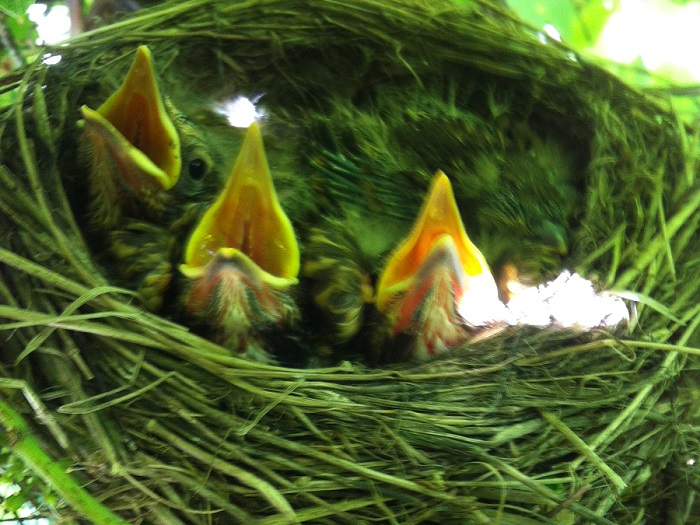 Happenings December - Summer
December 4 - The winds we normally have in Spring arrived at the beginning of this month. Chest high corn and broadbeans are getting blown severly, first two days from the north-west and now the south east. The sunflowers have been particularly damaged. At 7-8 feet high they are getting the worst of it. Some have snapped and the rest are on a 40degree angle. I will wait till the wind has gone before trying to straighten them up. Darn wind! Much needed rain has come with the wind however, hopefully this will soften the soil in areas I didn't get to dig over earlier in the season.
Weeding around the onions, corn and pumpkins.
Strawberrys's are growing well and I am getting lots of really good sized, lovely tasting fruit. Broadbeans are rampant. Peas have almost finished, they have been very good cropping this year. Bell peppers are flowering. Garlic has good leaf.
Beans are a dud. I think the potato plants might have blight. Beetroot has been swallowed by some nasty buttercup plants, I might save a few.