Potager Journal 2016
Photos of veges can be found in the 'Photos' section above.
Happenings May
May 1 - Dug some compost through bed1 and planted peas direct. A packet of Carouby and a packet of Progress. Both of these are new to me so will be interesting to see how they do. I have soaked them both overnight to help with germination.
May 3 - Sow carrot seed, bed2, three varieties - yellow, nantes and a small round. Sow seed in glasshouse - rossa onion, romana blonda (lettuce), di sicilia violetto (purple cauli), st vincent lettuce. Take cuttings of box and a couple of hydrangea.
May 6 - Re-dig bed2 and plant celery, beets, lettuce.
Checked to see if the peas have germinated. The Carouby has started to sprout, the progress hasn't yet. However, I've noticed a couple of small holes and where the pea seeds have been chomped! There are also a few bird poops here and there so I have surrounded the bed with shadecloth and covered it with netting. Sods!
May 7 - Clear and dig parts of bed3, plant red onion seedlings (bought). There are still some silverbeet and kale plants in here which are doing well so I will leave them until new plantings in bed4 start producing.
May 9 - Grrr, over half of the peas have been neatly dug out and have disappeared! Something tells me it is mice, I am loathe to set traps so will try and anchor the shade cloth down firmly... meanwhile I will go back to sprouting the peas first and then transplanting them.
Happenings April
March was hot! Not much weeding, very little planting but lots of eating...
Early April is time for planning the on-going Winter planting and I am sorting seeds and weeding patches here and there. Still too hot to take Autumn seriously but I had better get going, the first decent rain will bring soft, dig-able soil which won't last long before turning into soggy, sticky gloop. I've started to chop up straw and mix it with lawn clippings which I will incorporate when I get to dig over the beds.
April 23 - We have had a bit of rain, ground has softened and I have cleared and dug part of bed4, removed all old tomato stalks and added compost. Planted green cabbage, russian kale and spinach. Covered all bare soil with wads of rotting straw from bales which had been used as a raised bed for lettuces earlier. Makes a nice mulch and I had occassionaly sprinkled blood and bone when the lettuce was growing, so that will be added food.
April 25 - Cleared the old pumpkin vines, bed1, and dug over the soil, have also started on bed 2 which had been covered earlier with seaweed and woodchips. The soil is really nice, lots of worms and soft.
Cleared butternut vines, bed3, dug over, added compost and planted cauliflower and broccoli. Raked leaves that have started to fall from the plane trees.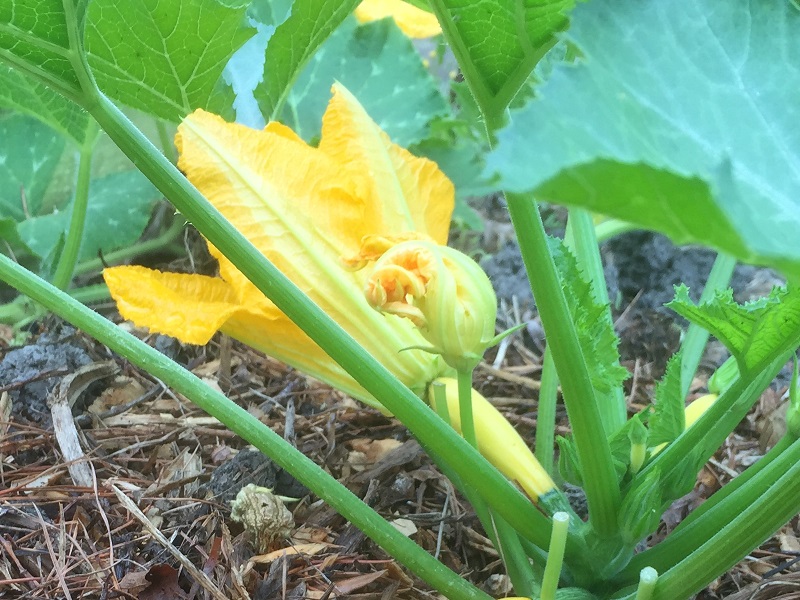 Happenings February
2016 has been a great summer so far and January was all about growing. Fairly settled weather, hot days and enough rain to not have to water daily. Excellent for the nightshades - tomatoes, peppers and aubergines growing fast and in quantity. Star performers have to be the tomatoes. Thomas Jefferson plants, in particular, have made the most beautiful fruit with golden yellow colouring and heavy, meaty flesh. They have less seed than most, which makes for less water when cut. Full marks for size and flavour.
Late Feb we have a lot of rain. The tomatoes are swelling fast and starting to split on the vines so I am picking most of them to finish ripening inside. Some I will save the seed as well.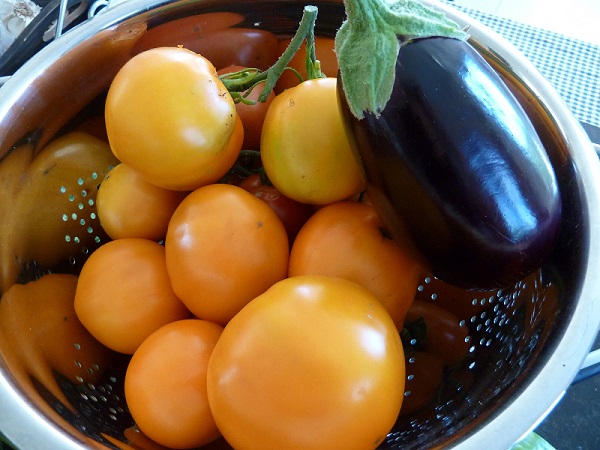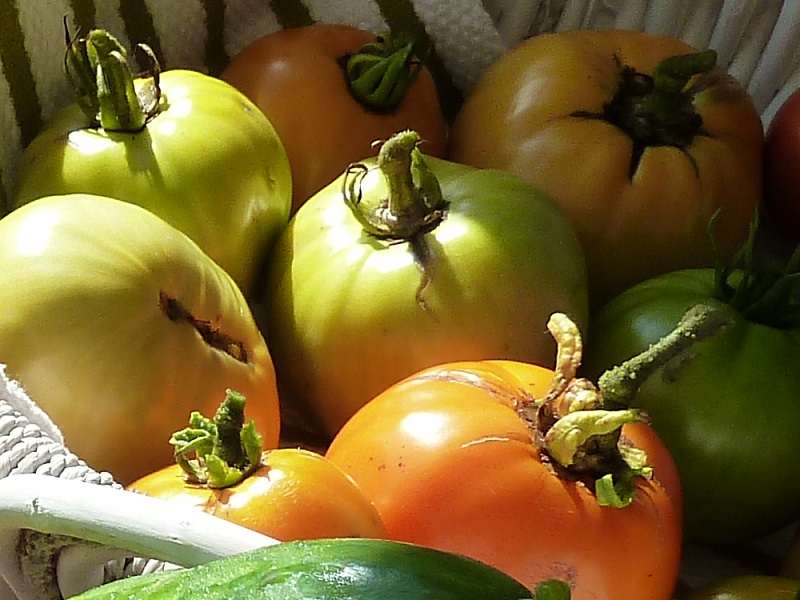 Monarch butterflies have been prolific also. Self-seeded swan plants are everywhere in the garden and at any one time between 20 and 40 butterflies fluttering between them. Caterpillars are on everything and weeding has become non-existant. I have retrieved numerous chrysalids from the compost heap! They are such beautiful creatures.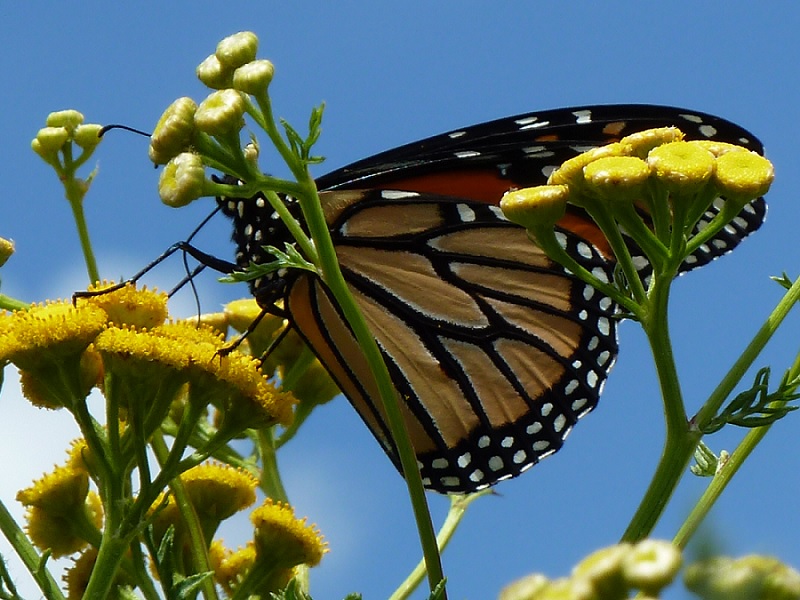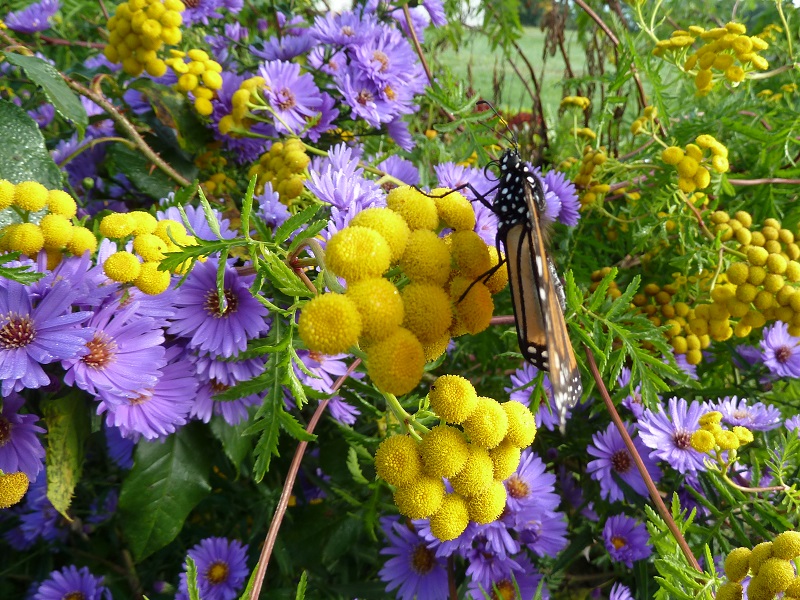 Cleared all onions, picking kale, tomatoes, silverbeet, beets, lettuce, capsicum, cucumbers and aubergine.